Parent meeting for 2022 future applicants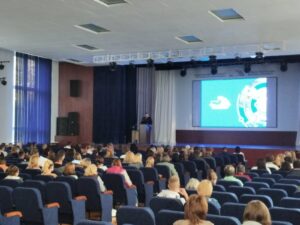 On September 16, 2021, the Admissions Committee of Chernihiv Polytechnic National University held a general meeting for parents and future applicants on the specifics of the 2022 admission campaign.
The main purpose of the meeting was to tell about:
features of a wide competition,
setting priorities,
competitive and passing points and more.
After the general presentation presented by the Secretary of the Admissions Committee – Yeroshenko A.M., everyone had the opportunity to ask questions on the substantive issue.
Pay attention! The presentation material was prepared according to the admission rules in 2021 (i.e. the information at the time of 2022 admission may be slightly changed!)
The admission committee would like to hold such meetings, so stay tuned.
Facebook: 
@prijom.stu.cn.ua
E-mail: 
prijom@stu.cn.ua
Phones for inquiries: (0462)665-200, 
(0462)665-201, (063)949 97 47, 

(068)068 72 60